Night Boat to Tangier by Kevin Barry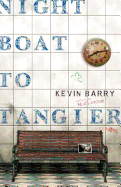 In the Spanish port town of Algeciras, two men wait in a ferry terminal that is "as awful a place as you could muster." The men, Maurice and Charlie, are not much better, "a savage pair" of aging Irish criminals. While waiting for Maurice's daughter, Dilly, to arrive on a boat from Tangier, they ruminate on their illicit lives and careers, each haunted by their own ghosts.
From this deceptively simple scene, an existential conundrum unfolds in the tradition of Kevin Barry's countryman Samuel Beckett in Waiting for Godot. The two men are waiting for Dilly. Do they know when she will arrive? Is she arriving or departing? Is it possible she could have already come and gone? Have they missed her? What if she doesn't show? What if something happened to her? How long have they been waiting? Minutes? Months? Years?
Time gives way to an ever-expanding present overshadowed by uncertainty and danger. The tension captures the anxiety of a world teetering on the brink of chaos. Barry expertly places his characters in the crucible of this unravelling present, one increasingly destabilized by a refusal to confront, or even remember, the horrors of the past. If Dilly would just arrive, the pair could realize their only hope. Within the space of that constantly deferred action, everything happens.
In Night Boat to Tangier, Kevin Barry (City of Bohane; Dark Lies the Island) is at the height of his creative powers. —Jarret Middleton
Discover: A masterful inquiry into the lives of two haunted Irish criminals waiting for a boat that may never come.Doubleday, $25.95, hardcover, 272p., 9780385540315